"The cup is perhaps the most basic vessel. Our bodies demand hydration even more than nutrition. This essential deliverer of liquid offers practically infinite ceramic variation and magnificent opportunities for individual expression. Not surprisingly, it's usually the first pot that potters learn to make and the first pot that attracts a customer." Mark Shapiro
In this livestream demonstration, you'll be introduced to Mark's unique approaches to this essential form, including faceted porcelain and rope-inlayed teacups, footed chalices, and water "glasses", and his signature surface treatments. Mark is not on social media, so this is a rare oppportunity to see his working process.
The demonstration will take place on Saturday March 13, 12:00 PM - 2:00 PM EST (New York).   To find the corresponding time in your city, please click here for a world clock website.
We will be using the Zoom platform. Participation will be limited to 50 attendees.  A link will be sent out to participants after they have registered and purchased a ticket.
A video of the livestream will be available for purchase if you are unable to attend at the time of the live session. Anyone who purchases and attends the livestream will be sent a coupon for a free copy of the video.
This workshop is
offered in partnership with

Saratoga Clay Arts Center, in conjunction with their exhibition PLAYING WITH FIRE: Altered Atmospheres. The exhibition was curated by Mark Shapiro.
In this jam-packed mini workshop, Mark will show the forming and decorating of his signature cups. He will demonstrate throwing off-the-hump to make faceted, squared, and textured cups, as well as throwing to-the-mark off the wheel-head to make sets of given sizes. He will cover various surface decorating techniques: painting geometric patterns with slip, marking through wax, filling and scraping rope textures, and more.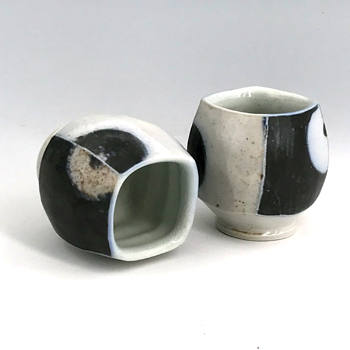 Altered Shapes
Learn how to throw and square cups, then embellish with geometric painted patterns.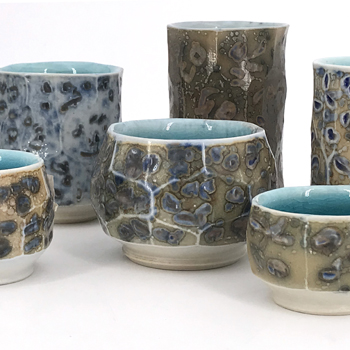 Faceting
Learn to facet thrown cups and decorate with markings through wax resist.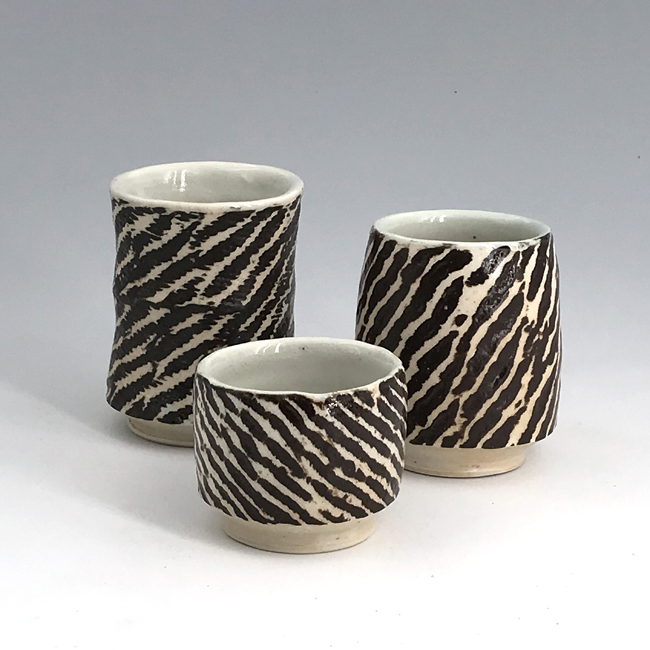 Texture
Learn to impress cups with rope for texture, then enhance the texture with inlaid colored slip.